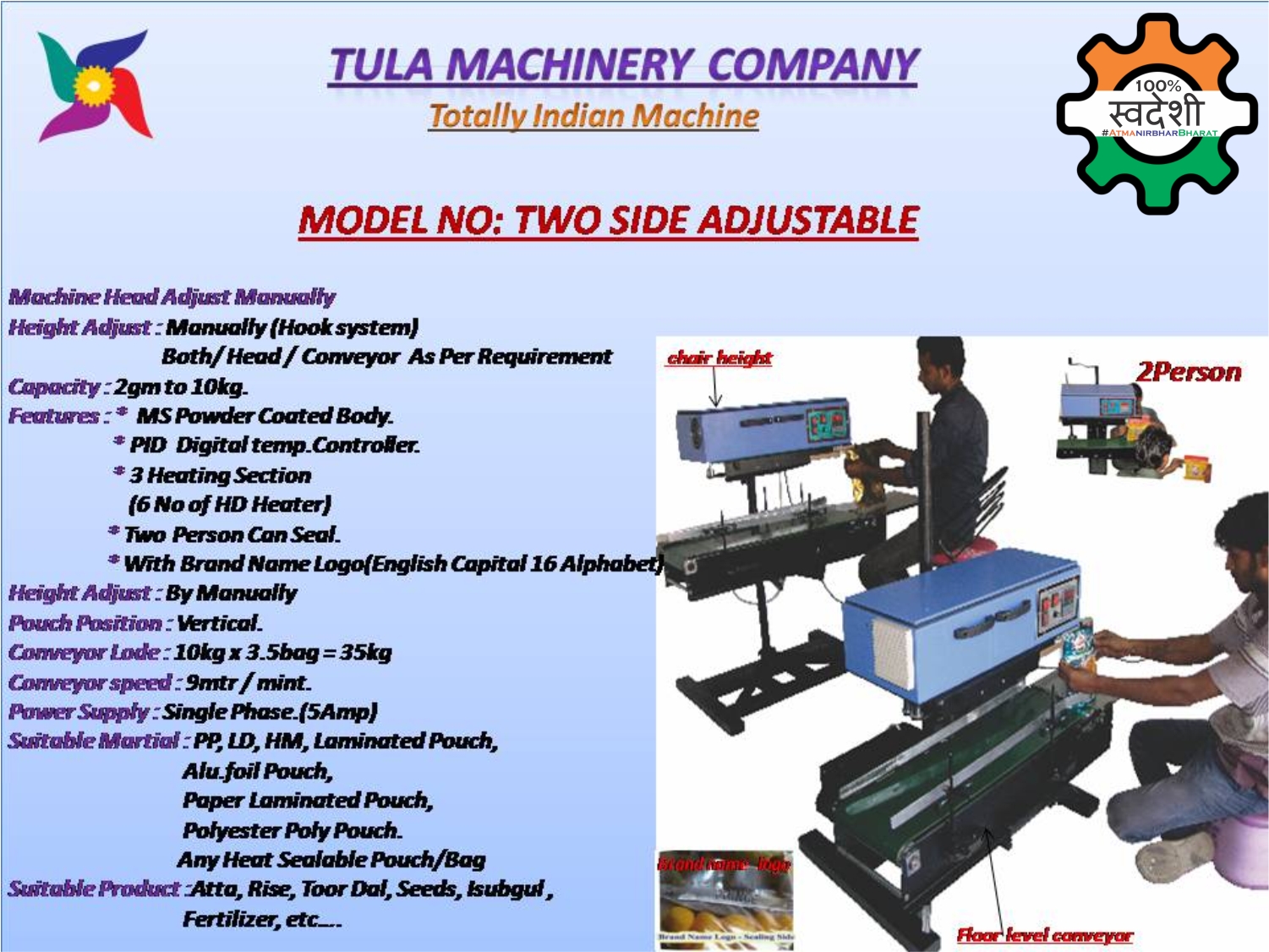 Premium Quality Plastic Packing Machine at Competitive price
At Tula Machinery Company, we are committed to providing you with premium quality plastic packing machine at competitive prices. We are an Ahmedabad based Indian firm which supplies an extensive range of plastic bag packing machine. We take pride in our ability to develop customer-specific applications. We take into consideration the demands of all our customers when they order a plastic bag sealing machine from our company. Hence, you can order for custom made plastic cover sealing machine for your industrial requirements. We help you optimize your time and improve the efficiency of your employees through premium quality machines. Let your products get a new look with the right application of our packing machines.
High-Quality Plastic Packing Machine
Tula Machinery Company is a quality first firm supplying premium standard plastic packing machines. We know that quality is the stepping stone to success in any business. As a high-quality plastic pouch sealing machine manufacturer we helps you provide top quality service to your customers. We believe that with quality, reliability, and safety develop. We are in the business of supplying the best quality plastic sealing machine for over two decades now. We have received ample time to refine our products, and now we provide some of the best quality products in the industry. We're in the top of plastic sealing machine manufacturer in Ahmedabad, India.
Automatic Plastic Bag Sealing Machine Manufacturer
We are efficient in the supply of automatic plastic bag sealing machine. We make use of the latest technological developments to provide automatic packing machines to suit the varied requirements of our clients. Our plastic packing machine ensures fast sealing and increased work efficiency. Our expertise and experience in the industry enable us to offer a superior quality range of products. Our products are widely acclaimed in the industry, and we have achieved this fame due to our hard work and dedication to serving our clients in the best way possible.
Ideal atta or flour packing, rice packing, dal packing, seeds packing, Isabgul packing, Fertilizer packing, etc